Any motorist who takes care of their car knows that changing the oil and filter regularly is one of the most important things you can do to maintain your vehicle.
But when it comes time to buy a new oil filter, which brand should you choose?
One popular option is Motorcraft filters, but many consumers are unsure about who makes them and whether they're any good.
In this post, we'll answer the question of who makes Motorcraft oil filters and find out whether they're worth using. Stay tuned!
Who Makes Motorcraft Oil Filters?

Motorcraft is a brand that's owned by Ford. That doesn't mean that Motorcraft oil filters are made by Ford.
Motorcraft oil filters are manufactured by Purolator Filters, a company with an excellent reputation in the industry for producing excellent filter products.
Founded in 1923, Purolator Filters, LLC has been serving the needs of customers for almost a century. Today, the company is one of the leading manufacturers of oil filters in the United States.
Purolator is a company that produces high-quality filters for a variety of vehicles, engines, and other equipment.
They offer a wide range of filters to suit the needs of any customer, and their products are known for their high quality and long life. Motorcraft oil filters are just one of the excellent products offered by Purolator.
With thousands of part numbers for automotive and heavy-duty applications, Purolator is sure to have the right filter for your needs.
So if you're looking for a high-quality filter provider that will provide long life and superior performance, look no further than Purolator.
The company has an extensive network of distributors and service centers across North America.
They have a team of highly skilled and experienced engineers who design and develop innovative products that meet the needs of the customers.
Purolator has a state-of-the-art manufacturing facility that uses the latest technology to produce high-quality products. 
They have a strict quality control system in place to ensure that all products meet the highest standards.
Types of Motorcraft Oil Filters
Motorcraft FL2051S Oil Filter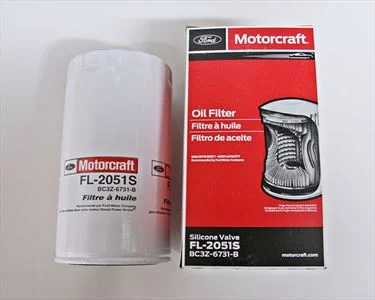 The Motorcraft FL2051S oil filter has pressure-relief valves that help to keep the oil clean and flowing properly, even if the filter gets clogged. This is important in extremely cold conditions or if the engine needs a lot of oil.
The steel case is "ironed" for a precise fit and fluted to ease removal. Plus, it's painted to resist rust.
This oil filter provides optimal capacity and efficiency. The large media area helps keep your engine running smoothly while the fluted case end makes removal easier than ever.
The well-bonded end plates prevent collapse under pressure, and the perforated steel center tube helps prevent damage to the filter.
When you're looking for a little extra peace of mind when it comes to your car's engine, Motorcraft FL2051S Oil Filter is the perfect option.
The silicone-based anti-drain back valve resists the aging effects that high engine heat can cause, while efficient filter media offers increased dirt-collecting capability.
You can trust Motorcraft to keep your engine running smoothly!
Motorcraft FL500S Oil Filter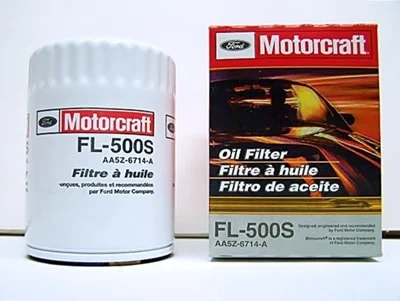 When it comes to protecting your engine, you can't take any chances. That's why Motorcraft oil filters are the only ones recommended for Ford, Lincoln and Mercury vehicles. Tested and retested under extreme conditions, they're sure to keep your engine running smoothly.
Motorcraft filters are 80% efficient on particles 20 microns and larger, helping to protect against engine wear.
The cellulose and polyester blend media is strong and can hold a lot of oil. Pressure-relief valves help make sure the engine always has enough oil, even under extreme cold conditions or if the filter gets clogged.
Motorcraft FL2016 Oil Filter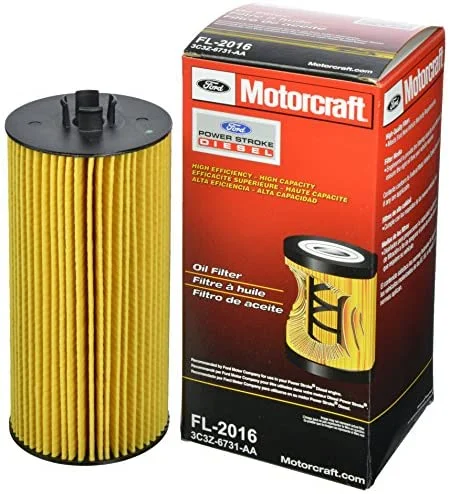 The Motorcraft FL2016 oil filter is designed to protect your engine against the build-up of harmful contaminants. It features a high-efficiency media that can trap up to 99% of dirt, dust and other particles that can cause engine wear.
In addition, the oil filter is durable and easy to install. Consequently, this product is an efficient and effective option compared to some conventional options in the market.
Is Motorcraft Oil Filter Good?
In order to answer this question, it is first necessary to understand what motor oil does and how it works.
Motor oil is responsible for lubricating the engine, and it also helps to cool and clean the engine by removing debris and impurities.
Over time, motor oil can become dirty and caked with debris, which can reduce its efficiency and cause damage to the engine.
A good motor oil filter will help to remove impurities from the motor oil, extending its lifespan and preserving the integrity of the engine.
The quality of an oil filter can vary depending on the brand, but Motorcraft is a trusted name when it comes to engine protection.
Motorcraft oil filters are designed specifically for Ford, Lincoln, and Mercury vehicles and are tested under extreme conditions to ensure they can stand up to the rigors of daily driving.
In addition, they're reasonably priced and easy to find. As a result, they're a popular choice among car owners who need a reliable oil filter.
Whether you're looking for an OEM replacement or an aftermarket option, Motorcraft is a trusted brand that can provide you with the quality you need.
In conclusion, Motorcraft oil filters are an excellent choice for anyone looking to maintain their vehicle's engine.
Pros
The oil filter line's valves are intended to provide enough pressure and stay in position.
The metal frame on this product will prevent rust, and the filter is easy to assemble and install.
Cons
Some persons find it difficult to find a compatible vehicle.
A special wrench is needed to fix an oil filter, but it can be bought at a fair price and offers long-lasting benefits.
When it comes to oil filters, there are a few brands that stand out as being especially good. Motorcraft oil filters are one of those brands. They're well-made, durable, and efficient. Perhaps most importantly, they're also affordable. That said, there are a few oil filter brands to avoid.
Some of the most popular oil filter brands out there are known for being subpar. They might not last as long, or they might not be as effective at filtering oil. As a result, you could end up having to replace your oil filter more often.
So, if you're looking for a good oil filter brand, Motorcraft is a great option. But if you're looking to save a few bucks, you might want to steer clear of some of the other brands out there, such as Suptertech and Carquest.
Supertech oil filters are actually made by a company called Champion Laboratories, which also makes filters for other brands, such as Baldwin and Wix. And while they're not necessarily a bad option, they're definitely not the best. In fact, many experts actually recommend avoiding Supertech oil filters altogether.
As for Carquest oil filters, they're made by a company called Mann+Hummel. They are reputable and their filters are actually used by a variety of different brands, including BMW, Porsche, and Mercedes-Benz. However, they're not necessarily the best option either.
I highly recommend you to research more about who makes Supertech oil filters and their quality before making any decision.
FAQs about who makes Motorcraft oil filters
How many miles is a Motorcraft oil filter good for?
Because Motorcraft filters are so durable, you can use them for long periods without having to worry about changing your filter. They usually last more than 5k miles which are excellent compared with other standard products on the market!
Are Motorcraft oil filters made in the USA?
Motorcraft is the official parts supplier to Ford Motor Company, and they work with Purolator on making their oil filters. The company that owns them also manufactures it at one location in Fayetteville, NC!
Are Motorcraft oil filters suitable for synthetic oil?
Yes. Motorcraft oil filters can be used with synthetic oil. They have good construction and a special valve design that helps the oil flow smoothly into your engine. This makes your engine run more efficiently than ever before!
Is a WIX oil filter better than Motorcraft?
The WIX media is stronger and more durable than Motorcraft. It also has deeper pleats, which means it can hold more dirt and dust.
Why does Ford use Motorcraft?
Motorcraft is a line of automotive parts recommended by Ford Motor Company. It offers a complete line of replacement parts including engine filters, spark plugs, brakes, and batteries. All Motorcraft parts are backed by a Ford warranty.
That means when you use Motorcraft parts on your Ford vehicle, you're getting quality parts that are designed specifically for your vehicle.
In addition, using Motorcraft parts helps to support the employment of over 11,000 Americans at over 60 facilities across the country.
When did Ford switch to Motorcraft?
In the 1950s, Ford switched from using parts made by outside suppliers to using parts made by its own subsidiary, Motorcraft. The change was motivated by a desire to improve quality control and reduce costs.
Ford had previously outsourced the production of many of its components, but it found that this led to problems with quality control.
In particular, there were often inconsistencies between batches of parts, and it was difficult to track down the source of the problem. By manufacturing its own parts, Ford was able to exercise greater control over quality.
Additionally, Ford expected that making its own parts would save money in the long run. Although the initial investment was substantial, Ford believed that it would eventually pay off.
The switch to Motorcraft parts was a major change for the company, and it helped to ensure that Ford products were more consistent and reliable.
Is Motorcraft the OEM for Ford?
Motorcraft is the official parts brand of Ford. All Motorcraft parts are designed specifically for Ford vehicles and backed by a Ford warranty.
That means when you need replacement parts, you can trust that Motorcraft will have the high-quality, exact-fit parts you need to keep your vehicle running like new.
In addition, Motorcraft parts are competitively priced, so you can get the repairs you need without breaking the bank.
Whether you need brake pads, spark plugs, or a new battery, Motorcraft has the parts you need to keep your Ford running smoothly.
Conclusion
Motorcraft oil filters are made by Purolator and they're a good quality filter. Purolator is a company with over 70 years of experience in filtration manufacturing. They make OEM (Original Equipment Manufacturer) filters for a variety of different car brands, including Ford Motor Company.
In fact, Motorcraft was the first brand to introduce a spin-on oil filter for passenger cars and light trucks. So when you choose Motorcraft, you know you're getting quality products that have been tried and tested.
We hope this article has helped you better understand who makes Motorcraft oil filters and why they're such a popular choice among Ford owners.